We have all ranked a man or woman on a scale from 1 to 10, and such scales are necessarily subjective.  And, that's okay.  Still, in the spirit of conformity (a conservative's dream!), I humbly offer the following scale for ranking individuals' attractiveness:
There are no 1's.  A 1 would be so horrifically unattractive that gazing upon this person's features would strike one dead or perhaps instantly transform you into pillar of salt.  This does not mean that there have never been any 1's.  They are usually killed at birth out of fear, desperation, and the inability to comprehend what evil has been visited in the form of a bundle of disorganized cells.  In fact, it is from 1's that the common saying, "god does not like ugly" is derived.  So rare is a 1 that even god pauses before unleashing such evil upon us.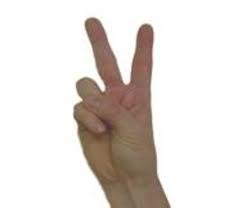 There are 2's, but these individuals are usually imagined as goblins, trolls, or other creatures under bridges that are similarly nocturnal.  Often 2's are cave dwellers, so be careful where you explore–particularly in Europe, as 2's are largely found in caves in the Caucus Mountains and other rock formations in the UK as well.
Sadly, 3's are more common than we would like.  These individuals are solidly ugly.  They tend to have asymmetrical facial features.  Asymmetry is the hallmark of unattractiveness.  Additionally, they tend to be gauche, as they are not commonly involved in social activities.  They tend to have jobs that require them to be in the dark or out of public sight.  Fret not though because even 3's often find partners.
We are starting to get into the 68% area of the normal distribution of attractiveness.  A 4 tends to have just one or two things about them that ruins what otherwise would be an okay person to look at.  Female 4's have it easier than male 4's, as men tend to have less scruples about who they sleep with–especially if no one will know.
Almost everyone is a 5.  There is nothing particularly attractive or unattractive about a 5.  You can dress them up, but they don't gain in attractiveness.  Whether in bleach-stained, lime-green sweats a fitted Dolce & Gabana fit, they are the same 5.
Just about anyone who is not a 5 is a 6.  These are attractive individuals.  They are not the most attractive by any means, but they tend to have something that draws people.  You may date a 6, fall deeply in love and lust with that 6, and after it ends (yes it will end), you will wonder just WTF you were ever doing with that 6.  Well, you're probably a 6 yourself, and there is nothing that.
We are now in the waters of the solidly attractive.  7's are almost unanimously regarded as attractive.  A man will have no problem being turned down by a 7.  You can build something strong and work with a 7.  A woman will stay with you longer if you a 7, rationalizing, "At least he's attractive" (I've heard that women go months without seeing a single attractive man.  I don't know if that's true–it's certainly not true on the reverse–but if it's true, being a 7 gives you some currency.)  The same is true for men.  A man will not readily leave a 7.  He will put up with some bull in order to keep that 7 around.  She may be dumb, she may not listen, and she may be lackluster in bed, she may have no intangibles so speak of, but at least she looks good!
An 8 is what we all call "sexy" or "fine" or whatever.  A sober (emphasis important) and attractive man will be willing to get turned down several times in one night by an 8.  In fact, he will be willing to risk a fight to talk to an 8.  8's are rare.  No one leaves 8's unless they are 8's themselves or if the market has been flooded with 7's.  An 8 needs almost nothing else going for themselves except how they look, and often, they have nothing else going for them because necessity is the mother of invention and innovation, and who would do the work of improving themselves with intangibles if their tangibles are so tasty?
If you find a female 9, report this person to me via email immediately!  If you find a male 9, he'll never settle down with you, and that's okay because you'd be too insecure to be with him anyhow–unless you're paying for his time, and if you're not an 8, you will have to pay.
There are no 10's.  Gazing at a 10's attractiveness would be like staring at the sun.  One would surely go blind.  10's are the unicorns of attraction.  Stories say that they have existed, but we all to regard those stories as fiction.  I'm gonna give you all some classified information: There was a 10 born once around the reign of Mansa Musa (look him up).  She was a Mandinka baby girl–we assume.  We are not sure of the child's sex, but it is commonly understood, among those who are in the know, that the child was a little girl.  The child lived for approximately two weeks before dying of starvation.  When born, she could only be likened unto "liquid light."  These are not my words.  I'm just relaying the story.  At any rate, the child's beauty struck the village dead, and there was no one around to feed the child; hence, starvation.  Thus, there are no 10's or 1's for that matter.
Barring extenuating circumstances, everyone dates within one standard deviation of their ranking.  For example, a 5 may be with a 4 or a 6, but that 5 is unlikely to draw a 7 by looks alone.  The common denominator for getting over one's ranking is money.  For money, women sell themselves to eighty-three year old men who have long lost the ability to do anything but pay for a woman's company.  For money, men readily sleep with the trashiest of the trashy White trash that can be found.  So, get paid because your number is unlikely to change–unless you get into a terrible accident that leaves you irreversibly ugly.  Anyhow,
…there's gotta be some rules.